Listen to the Show Sundays at 1.30pm
Show 1012 – Sunday 1 May 2016

Amazingly enough it's another bank holiday weekend this weekend. We're still waiting for the warmer weather.. Maybe it's not too far away. We can hope!
The most remarkable Premier League season ever could take another twist this weekend – Leicester play on Sunday and if they beat Manchester United, they will be champions. We'll have live reports from the match, which kicks off at five past two.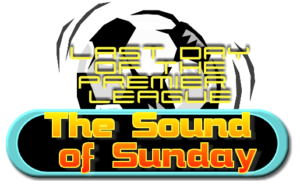 On 15th May we will of course have the story of the last day of the Premier League season when all 10 final matches kick off at 3pm. Leicester are at Chelsea that afternoon so it could be the case that last year's champions literally hand over the trophy to the new champions.
Most Recent Posts and Products
The Sound of Sunday Shop